Growing a Child's Faith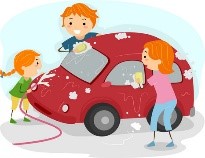 ********Sunday School God Squad Car Wash – Sunday, October 8th, 10:45 a.m.
God Squad is hosting a carwash on Sunday, October 8th, immediately following church (during the semi-annual meeting) right in the George Boom parking lot.*********
=====================================================================================
Beaver Valley's youth ministry programs are our priority!  Our Sunday School is simple for now…a one room school house method of teaching while we anxiously wait for our return to our church home with new gathering spaces and Sunday School craft room nearing completion.  Our new fifth grade God Squad is already busy with learning and working (red t-shirts on when they serve  around the church).  Our 6th – 8th grade confirmation classes (with adult guides for small groups) are learning and planning servant work to bring mind and body together.  And our Senior High meet both as a Beaver Valley small group and as part of a larger, once-a-month "northern rim" youth group that plans each year a faith enhancing trip to go serve and learn.  When we say, "Come to the Valley to Grow in Faith", we say that first to our children!  Learn more…Click here for children & youth ministries.

Beaver Valley, "Our New Beginning has Begun!"
After months of careful planning and waiting for good information to be gathered, Beaver Valley Lutheran's rebuild has begun!  We now pray for safety for the workers who labor to bring us back into a newly fashioned home, just as we pray for wisdom and guidance as members make final decisions about the "look and feel" of our church home.  Friends of the congregation from far and wide are to be thanked for their offerings that have inspired Beaver Valley members to build for what is yet to come.
Join us on Sundays at 9:30 a.m. in our temporary worship and education venue:  the George Boom Chapel in Brandon (2500 east Aspen Blvd., 1/2 mile straight west of our BVLC sanctuary). Or, as always, join us on Wednesdays for mid-week worship in the summer time at 7:00 p.m. (May 31st) in our outdoor Pavilion or fall through spring in our "old" sanctuary for mid-week worship 6:30 p.m.
You're welcome to Join in the start of our Christian Education programs for all ages. READ MORE
Join in our Christian Education programs for all ages of youth. Our spring new member class sign-up is now posted.  It starts with a first visit with Pastor Greg.  You can contact him by calling or texting 605-940-5875 (preferrable) or emailing him at pastor@beavervalleylutheran.org
Presentation to show updates for the church